Welcoming Wild Plants into our Towns and Cities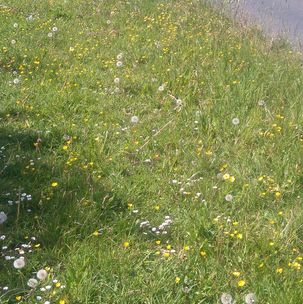 By Sarah Allen
During the first lockdown, when things ground to a stop, I noticed far more wild plants growing in the grass verges and green spaces near my house. While council mowers were out of use the plants had chance to grow. This soon ended with easing of restrictions and the plants were unceremoniously lopped. So, with life getting back to some kind of 'normal' I was expecting the regular mowing to continue and to some extent it has, but last year more areas were left to grow. Some may see this as messy, I understand their view, we've grown (excuse the pun!) accustomed to 'neat' looking verges and gardens. However, the UK hasn't always been like this. Looking back in time, before humans used agriculture for food, much of the UK was covered in wild woodland. Looking back less than 100 years and in the 1930s wild flower meadows were widespread. Since then, we have lost 97% of our wild flower meadows. It's a gradual decline and one that many of us are unaware of as we never saw them in the first place. So, making our towns and cities that little bit wilder simply by letting the grass grow a bit longer is something I'm in favour of. Some, forward thinking councils, are doing this and I've seen clover, dandelions, daisies, buttercups and cow parsley growing in areas simply left alone. This is of great benefit to the natural world providing habitat and food, including for pollinating insects (which, not surprisingly are declining). I also know it is of great benefit to me, when I walk near these wild plants I feel a happiness that I don't feel if the verge has just been cut!
We can also rewild our gardens. This can be as little or as much as you like. Simply leave a small patch and see what happens, you can equally do this with window boxes or pots. I've ended up with some beautiful flowering plants this way, given to me for free from nature's bounty! If you want to give nature a helping hand sowing some wildflower seeds is a great thing to do. A fun way to do this is with a seedbom, 100% biodegradable, simply pull the pin of the 'grenade' and throw or drop into areas that are in need of brightening up. These are also a great present idea: ideal Christmas stocking fillers, Mother's or Father's day gifts and great fun for children!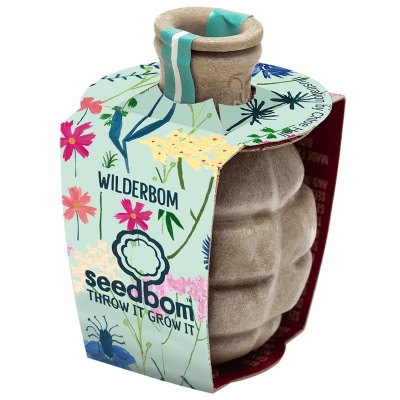 Are you inspired to help rewild your little patch of the planet? I'd love to hear about what you are doing in the comments.